A Passion for Epicurean Excellence Since 1999
A visit to Stone House Vineyard will demonstrate clearly how it got its name. The name itself suggests the durability of a fadless and timeless creation; two qualities owner Angela Moench espouses in her wine making and in the care of the vineyard. The winery tasting room is constructed of massive limestone blocks, each weighing more than 2000 pounds, making it a veritable Stone House.
Angela's vision, perseverance, and passion are as strong as the stone that makes up the winery and that anchors the grounds to the shores of Lake Travis.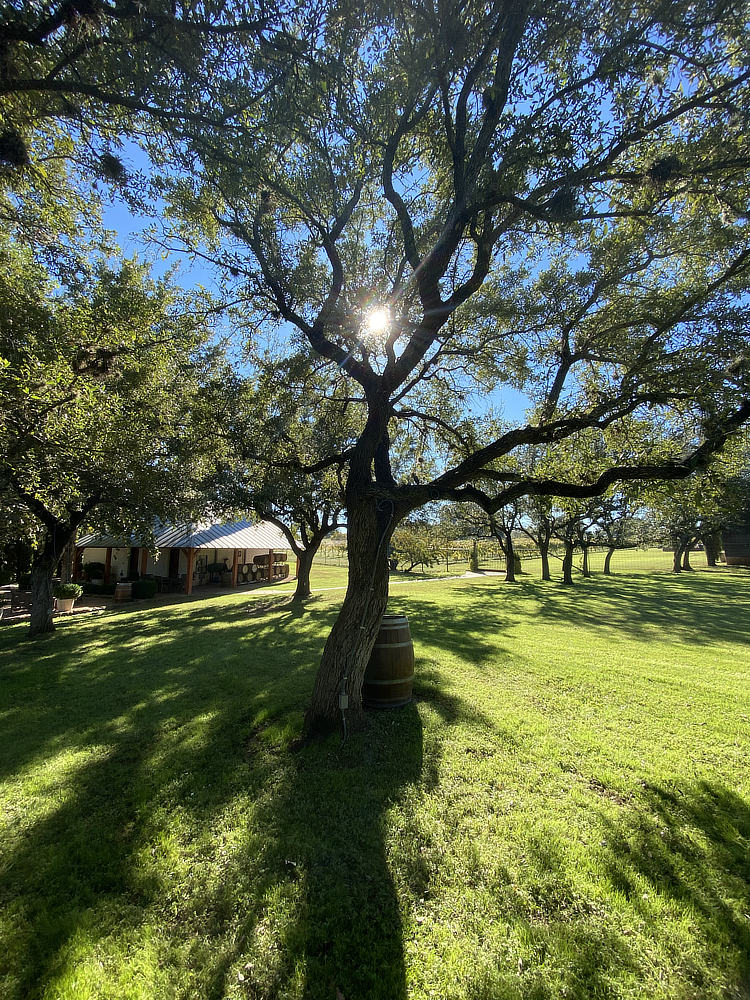 Angela was born and raised down under, in the beautiful Barossa Region, which is perhaps Australia's most famed wine region. Her family owned a vineyard, providing Angela with the privilege of learning to care for a vineyard from a young age. As a young woman she moved to England and attended the prestigious Le Cordon Bleu, training as a chef. Her passion for food and wine pairing was solidified during these years and extends to her vision for our exclusive monthly winery dinners.
Angela married Houston physician, Howard Moench, and together they had the romantic notion of planting a vineyard in the Texas Hill Country in 1996. The couple saw the vineyard as a natural complement to their passion for good food and wine, and an opportunity to become a part of the evolving Texas wine industry.
Before planting the 7-acre vineyard, the best varietal for the location was selected; one that would benefit from the unique microclimate, stony soil, and moderating breezes off the lake. Texas Hill Country is a notoriously perilous place to grow wine grapes, with the possibility of late frosts, hail, heavy rain during flowering, and drought during growing season. The area is also susceptible to the dreaded Pierce's disease.
It was decided that the lesser known Norton grape would provide a beautiful expression of Texas terroir and would combat some of the perils of growing in the Texas Hill Country, due to its late bud-break and its capacity to resist Pierce's disease. And it just so happens that the naturally high acid grape makes a delicious blue-purple, medium to full-bodied wine with zesty aromas of spices and berries.
By 2005, there were many successes with the Norton, named Claros, and Angela felt the winery was ready to be launched. By enhancing the portfolio with several wines from her company Stone House Vintners in Australia, Stone House Vineyard was born in 2006. At about this time, a family friend in Napa Valley became a consulting winemaker and provided a source of wines from that prestigious region, rounding out the triumvirate of excellence that has characterized Stone House from the beginning.
In 2015 our beloved co-founder, and architect of the Stone House itself, Howard Moench, died suddenly, leaving the winery to Angela's care. Our flagship wine, Enargeia, is Angela's lasting tribute to Howard, who loved both Greek literature and Bordeaux wines, and often enjoyed them together. Enargeia, in the Greek tales of Homer, is the term for the physical manifestation of the gods when they take on human form. The wine itself is a deep and brooding blend of Cabernet Sauvignon, Cabernet Franc, Merlot, and Malbec from Napa Valley. It is a fitting tribute to Howard, who is remembered every time Enargeia is opened and lovingly shared here at the winery and elsewhere.
After these many years contending with the stresses and successes of the wine business, Stone House Vineyard has grown significantly. The property has been enriched through various capital improvements, such as the addition of the Member Area Tasting Room Barn, Beagle Bluff, and new walking paths, new seating, and various improvements to the tasting room and adjacent patios. The wine list has grown to 23 wines and our membership has grown to include far-flung places like Maine and California, though of course most of our members are our fellow Texans.
Stone House exists to build on its firm foundation, creating wines of distinction from California, Australia, and Texas, while providing a place of exquisite beauty and exemplary service.